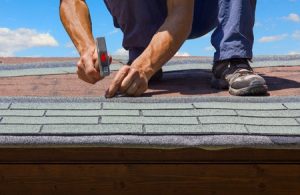 Are you having problems with your roof in Lubbock, Amarillo or Clovis? Nervous about repair costs? Do you want to get out ahead of potential issues to avoid having to pay big bucks for major roofing issues down the line? If yes, Roof Smith can help!
We offer roof repair services in Clovis, New Mexico, Lubbock & Amarillo, Texas, Eastern New Mexico as well as the surrounding areas. Our expert roofers can rectify the issues plaguing your roof, such as roof leaks, and help you avoid the costly endeavor of having to pay for a new one.
Many issues could be bothering your roof, including leaks, punctures, blistering, improperly installed flashing, ventilation issues, broken shingles and more. Whether it was Mother Nature, old age, or poor craftsmanship that caused your issues, it's vital you have an expert look at the issue as soon as possible.
If you are worried about the cost, please note, Roof Smith offers FREE estimates so you can budget exactly what it will cost you to have professional roof repairs.
Please fill out the contact form on the page or contact us at your convenience to schedule an appointment, and we will send one of our roofers to your property to assess the damage.
We are located in Lubbock, TX, Amarillo, TX and Clovis, NM.