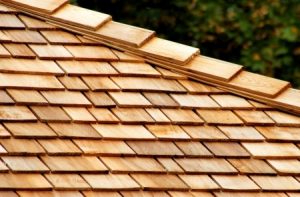 Roof Smith provides quality wood shingle / wood shake roofing to the Amarillo TX and Clovis NM areas. A shake is a basic wooden shingle made from split logs. Shakes have traditionally been used for roofing and siding applications around the world. Higher-grade shakes are typically used for roofing purposes, while the lower grades are used for siding.
One of the advantages of wood shake is a natural beauty and the way in which it gracefully ages into a beautiful grayish silver tone. In terms of cost-savings, a wood shake is long-lasting, making it an ideal roofing material. Wood shake can last at least 10 years longer than common roofing materials, like asphalt. Wood shake and shingles are also resistant to strong winds and are durable heavy rains, hailstorms, snowstorms and other types of severe storms.
Wood shake roofs are also energy efficient, providing a natural insulation up to two times that of asphalt shingles. This allows you to conserve home heating and cooling costs, and significantly save on energy bills. If you're interested in a wood shingle roof, contact us today! We're located in both Amarillo TX and Clovis NM.
Save